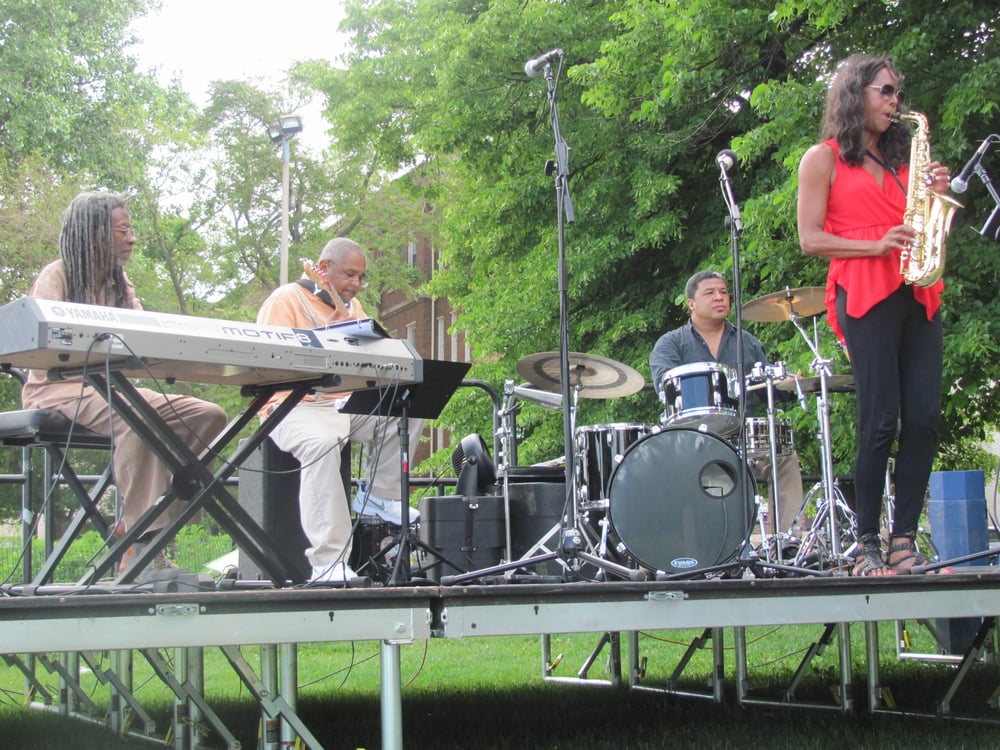 June 1st, 2019
Posted by Jocelyn Gerard
events
0 thoughts on "Artists of the Wall – Music Festival June 20-21, 2020"
Come enjoy world-class music at the Artists of the Wall Festival
2019 Line-up
Saturday, June 15th
12:00PM Jacob Jasz McCullough
Jacob started out taking lessons at Flatt's and Sharpe at the age of 8 playing the guitar. He continued playing the guitar and slowly got introduced to other string instruments like the Upright base, Mandolin, and the Ukulele. He's is in his second year at UIC majoring in music.  He plays on the Orchestra at UIC, also in a jazz band on campus. Over the years Jacob played at venues like Mayne Stage, Abbey Pub, 24 live, Ambassador Public House, Heartland Café.
12:20PM Ochin Pakhi
Ochin Pakhi is a dynamic group of young, spiritually motivated musicians from Chicagoland. They perform Baul, Rabindra Sangeet, Nazrul Geeti, Bhatiyali, Jhumur and other folk styles across West Bengal and Bangladesh with our own arrangements on different ethnic and modern instruments including dotara, ektara, dubki, khol, khamak, tabla, mandira, bansuri, dholak, doumbek, violin, cello, banjo, accordion, saxophone and western flute.
https://www.facebook.com/Ochinpakhimusic/
1:45PM Cielito Lindo
As seen on WGN, Univision, Chicago Tonight, Parents Latina Magazine, Chicago Parent and more, Cielito Lindo is a modern Latino mariachi formed by the Lucero family of 9. The children range in age from 5 to 16 and have performed for numerous events including weddings, quinceañeras and serenatas throughout the Mid West. With a fresh look & youthful energy, the family performs the traditional music of Mexico and is passionate about inspiring families to enjoy music, culture, and creativity together. http://www.cielitolindo.co/
3:00PM Dried Spider and Niika
Dried Spider is a winding, grooving, brooding amalgamation of psychedelic soul, art rock, bent jazz, and lyricism made for the people. Dried Spider sings of nature, nurture, and strange connections amongst unexpected grooves, addictive guitar lines, and 3 part vocal harmonies. The songs of bandleader Matty Witney are a product of the environments they are born in, from the spacious landscapes of his homeland Australia, to most recently, the socially complex bustle of current Chicago and the U.S.
Their live set is often described as transportive; weaving elements of jazz, soul, indie and arty folk into a sound that is at once innovative yet relatable. https://www.youtube.com/watch?v=HmNQQ6NnXV4&feature=youtu.be
NIIKA (FKA Good at Bad), conceived and fronted by a Russian-born Chicago native Nika (guitar and voice), is a genre-bending, continent-crossing, soft explosion of intimate indie, soul, and dirty pop. Nika wrote and recorded much of her music in Australia,  but is currently holding a close focus on the blossoming creativity of her Chicago ensemble. The live show is a lush bath of ardent vocal performance, cradling harmonies, and seamless groove changes, which align like aural punctuation around Nika's vivid storytelling and deep, organic vulnerability.
https://www.niikamusic.com/
https://www.youtube.com/watch?v=wjQaueEsRBw#action=share
4:30PM Damian Rivero: Tango, Folclore, y Rock Latino
Argentinean born Chicago musician, from a generation of musicians that participated in the birth of Argentinean National Rock in the 80's. Damian belongs to a large chain of family musicians including his Grandfather Edmundo Rivero, one of the best Tango singers in Argentina of all time. From his father Muni Rivero Damian learned voice interpretation, guitar playing and music composition to become a professional musician. After a long career in Argentina where he was signed by Warner Music, Damian moved to the U.S. (2000) where he continues to play at different venues in Miami, Arizona, and Chicago. Damian will present two of his projects, a tango trip and his Rock Latino band.
https://www.facebook.com/damian.rivero.370?eid=ARCJueAa11uD4i2o0Tk9Le_EOJF8-4yKLYnP9GPgXV5ruSyTxSViFxhzs_1_06gS9Bb1tYaT1FSmSJnI
__________________________________________________________________________
Sunday, June 16th
Host: Arlietta Hall, Improv and Comedy (www.arlietahall.com)
12:00PM Jimmy Bennington Colour and Sound
"Once mentored by Elvin Jones, Chicago-based drummer Jimmy Bennington celebrates over a
quarter of a century in the music field… Bennington's unique sound and loose drumming, which doesn't follow traditional rhythmic patterns…and leaves quite a bit of room to freedom." DownBeat Magazine (Bennington's recent release was included in Down Beat Magazine's Best Recordings of 2014 issue)
https://www.jbcolourandsound.com/
  12:45PM Tommy Carroll's Calculated Discomfort
Chicago's Rogers Park-based drummer / composer / producer Tommy Carroll's Calculated Discomfort is a band dedicated to workshopping the soundtrack to a more inclusive future. Tommy combines his experiences in jazz, west African drumming, and leftfield rave production to create an emotionally-infused soundscape of futuristic textures, earthy beats, and joyous melodies.
http://tommycarroll.bandcamp.com
http://www.tcdrums.com
http://www.facebook.com/tc3music
2:00PM Macie Stewart
Time split among indie-rock band Ohmme, Chicago's experimental jazz community and a perennial quest for her next project, Macie Stewart is a master of equilibrium. To the 25-year-old multi-instrumentalist, that variety is paramount to remaining inspired. "I've always felt myself drawn to doing as many things as possible," said Stewart, whose ever-expanding list of collaborators includes saxophonist cellist Lia Kohl, Wilco, and of course another OHMME's multi-instrumentalist singer/songwriter, Sima Cunningham. Macie continues to forge a varied and unique musical path that spans many styles, recording and writing with such names as Sza, Whitney, Ken Vandermark, Chance the Rapper, and more. Macie was recently invited to become a member of The Bridge, which facilitates tours between French and Chicagoan avant-garde improvised musicians.
https://www.maciestewartmusic.com/
https://ohmmemusic.com/
3:00PM Pratt Catts

Pratt Catts is a codename of what could just be the Artist of the Wall house band with a historic twist. Lo and behold it is a somewhat improvised, otherworldly heavyweight jazz outfit that features an award-winning jazz educator and bassist Philip Castleberry on bass, one of the most exciting, genre-fluid drummers of our time Ernie Adams who has worked and toured with such musicians as Ramsey Lewis, Al DiMeola, Arturo Sandoval to name very few, and the prolific American composer and pianist Robert Irving III, who was a longtime Miles Davis Band member, musical director and producer and who has produced recordings with such world-class musicians as Sting, Carlos Santana, Dianne Reeves, Branford Marsalis, Wayne Shorter, Bill Evans, Gerald Albright, Grover Washington, Patrice Rushen, John Scofield, David Murray and Ramsey Lewis.
http://secretjazz.com/baabe.htm
https://www.ernieadamsmusic.com/


4:10PM Francesca Giannis Trio
Francesca Giannis is one of those rare musicians, humble yet prolific, that everyone seems to be searching for. She grew up singing and performing in the Chicago Children's Choir, and followed through Chicago Academy for the Arts and Berklee College of Music.
Contrary to the traditional course, Giannis went inwards after her studies. Rather than pursuing a traditional jazz career, she began to explore music of the world, Indian, Middle Eastern, North African, Spanish, Ottoman and Greek Classical song, with influences spanning from Nusrat Fateh Ali Khan and Pandit Mallikarjun, to Shajarian, Camaron de la Isla to Kani Karaca, studying with humility the vocal magic that people create outside our Western matrix. Playing with Kellen Boersma and Ernie Adams.
5:00PM Vezhliviy Otkaz
Vezhliviy Otkaz, which means "polite refusal", is one of the most original bands in Russia pushing the boundaries of art-rock and combining eccentricity and discipline. It was formed in 1985 with a then-popular reggae/ska blend and went on to boldly challenge both political and musical conventions in the orthodoxy of then-Soviet and now-Russia's official art ethos.
Far from where they started, VO has gone through numerous stylistic changes, flirting with everything from free jazz to art-core and Russian folk. Their sound, however, has always been unique and immediately recognizable. Roman Suslov's rhythmic guitar work and unusual vocals gives VO's music a precisely constructed, crystal-clear sound that is completely devoid of any of the extra noise so typical of rock music at large.
These uniquely important veterans of the historic musical rebellion in Russia will perform as a quartet on their second tour of the U.S. Featuring: Roman Suslov – vocals & guitar, Dmitry Shumilov – bass, Mikhail Mitin-drums and Pavel Karmanov – piano. https://www.facebook.com/vezhlivy.otkaz/